Good morning!
Greetings in the name of Father, Son, and Holy Spirit.
Praying for you, your family, your community, and the rest of the world. Right now, the whole world is suffering because of the Coronavirus (COVID-19). Let's pray together to God, Our Ever-Loving Father, His mercy and protection on all, and God's healing on those who are infected by the Coronavirus. We all believe God's grace and love rest on all who look upon Him every moment with faith in Him.
Do not forget to show hospitality to strangers, for by so doing some people have shown hospitality to angels without knowing it. (Hebrews 13:2)
Without knowing, Abraham greeted and showed hospitality to the angels, whom God sent. As soon as Abraham saw the strangers, who were the angels of God, ran to meet them and welcomed them, bowing low to the ground.
"My lord," Abraham said, "if it pleases you, stop here for a while. Rest in the shade of this tree while water is brought to wash your feet. And since you've honored your servant with this visit, let me prepare some food to refresh you before you continue on your journey."
"All right," the angels said. "Do as you have said."
Abraham and Sarah prepared the best feast and presented it to the angels. Still, Abraham did not know they were angles. As they ate, Abraham waited on them in the shade of the trees. Then one of the angels asked about Sarah and promised Sarah would have a baby. Sarah could not believe what she heard, and she even laughed silently. Even so, God was faithful and blessed Sarah and Abraham. In the following year, they received Isaac, whom they wanted for twenty-five years. God's mercy is greater than Sarah's unbelieving heart. Sarah silently laughed, but one year later, she bore a son, and named "Isaac," whose name means "laughter."
Abraham's hospitality did not end with the feast prepared for the angels. When the angels got up from their meal and departed, Abraham went with them to send them on their way. God revealed the secret that He was about to judge Sodom and Gomorrah. But Abraham's heart quickly sank because his beloved nephew, Lot, moved out and settled in Sodom. Abraham started interceding with God on behalf of the condemned Lot and the rest of Sodom and Gomorrah's dwellers.
Abraham initially asked whether God would destroy the wicked with 50 righteous people in Sodom. Abraham appealed to God using God's righteousness. God answered no. God would not if there were 50 righteous people in Sodom. Abraham soon felt that finding 50 righteous people would be hard because he heard many times about the wickedness of Sodom. He asked 45 instead of 50, and God said He would not destroy if there were 45 righteous people. Abraham continued negotiating down to 10. God said God would not destroy Sodom for the 10 righteous people. Then God left Abraham, and Abraham returned to his place.
Didn't God know how many were righteous in Sodom? Yes, God already knew. Didn't God know Abraham would negotiate down from 50 to 10. Again, yes, God knew. Then why did God have such a long conversation with Abraham? God loved Abraham, and God provided an opportunity for Abraham to prove his faith and grow deeper into the relationship with God. Then Abraham did. He boldly interceded with God on behalf of his beloved nephew, Lot. Indeed, Abraham achieved another great milestone of his faith before God. God was pleased with Abraham.
What can we learn from Abraham? According to God's good plan, God provides an opportunity for us to intercede with God. Then we should not pass the opportunity given by God. We should cling to God and pray for our loved ones who are in trouble. God loves to hear our interceding prayer. What are the two greatest commandments? Love God, and love neighbors. In other words, we should love God first and love others. Therefore, our interceding prayer for others is truly precious to God's eye.
Even more precious prayer is our prayer for those who are harming and persecuting us. Jesus Christ interceded with God on behalf of those who nailed, insulted, mocked Him, and asked for God's forgiveness.
As human beings, nobody can pray like Jesus, who gave interceding prayers to God on the cross, but only is it possible with Holy Spirit. The Holy Spirit can help us our weakness and make us like Jesus, who gave interceding prayer to God for others and even our enemies. Thus, we pray to God for the fullness of the Holy Spirit in our hearts. The Holy Spirit guides our lives throughout all circumstances to be like Jesus Christ.
In the same way, the Spirit helps us in our weakness. We do not know what we ought to pray for, but the Spirit himself intercedes for us through wordless groans. And he who searches our hearts knows the mind of the Spirit, because the Spirit intercedes for God's people in accordance with the will of God. (Romans 8:26-27)
Let's back to the angels, who went on to Sodom.
That evening the two angels came to the entrance of the city of Sodom. Lot was sitting there, and when he saw them, he stood up to meet them. Then he welcomed them and bowed with his face to the ground. "My lords," he said, "come to my home to wash your feet, and be my guests for the night. You may then get up early in the morning and be on your way again."
Can we see the close resemblance with what Abraham did to the same angles? Lot must have seen how politely Abraham treated visitors many times. As Lot watched Abraham, people watch us, especially those close to us, such as our children, nephews, and nieces. They copy what we do to strangers and visitors.
"Oh no," they replied. "We'll just spend the night out here in the city square."
The angels, for this time, refused the hospitality offered by Lot. But Lot insisted, so at last, they went home with him. Lot had learned well, and he was even able to persuade the angels to stay with him. Of course, Lot did not know they were angels. Then Lot prepared a feast for them, complete with fresh bread made without yeast, and they ate. God blessed Lot's house as Lot served the angels of God without knowing.
Can we imagine if we offer our hospitality to our guests, who are, in fact, God's angels? Yes, it can happen even today. God has not changed at all, and all that we read from the Bible happens today also. Thus, we serve strangers and especially those who are needy, in the name of Jesus Christ. Then we will offer our hospitality and help to God's angels without knowing!
Before the angels retired for the night, all the men of Sodom, young and old, came from all over the city and surrounded the house. They shouted to Lot, "Where are the men who came to spend the night with you? Bring them out to us so we can have sex with them!" The inhabitants in Sodom were truly wicked. Their wickedness became English vocabulary, "sodomy," which means acting like the people of Sodom.
So Lot stepped outside to talk to them, shutting the door behind him. "Please, my brothers," he begged, "don't do such a wicked thing. Look, I have two virgin daughters. Let me bring them out to you, and you can do with them as you wish. But please, leave these men alone, for they are my guests and are under my protection."
Lot was a righteous man, but there was a significant fault in his statement. Why? The people of Sodom greatly influenced Lot. Without knowing, he acted like the people of Sodom. He learned the good from Abraham, but he also learned the wicked from the people of Sodom. He offered two virgin daughters, although he intended to protect the visitors already in his house. It is not easy for us to understand what Lot was thinking because two daughters were already engaged with two men and were waiting to get married. Yes, none of us would do. But Lot, heavily influenced by Sodom culture, did.
What can we learn from Lot's behavior? Although Lot had a good heart, the living environment is so strong that Lot could not tell which one was good and wicked. As a result, Lot did as the people of Sodom would do with the same wickedness without knowing. Sadly, Lot became one of them.
Like Lot, we are not immune to the world. As we continue living in this world, we will be like the people of worldly values and culture. Soon without knowing, we act like the people belonging to this world. Then how to not become like the people belonging to this world? The answer is only one — going back to God every day and even every moment, realize where we are spiritually, and ask God's forgiveness, guidance, and protection.
Don't copy the behavior and customs of this world, but let God transform you into a new person by changing the way you think. Then you will learn to know God's will for you, which is good and pleasing and perfect. (Romans 12:2)
The people of Sodom were truly wicked. "Stand back!" they shouted. "This fellow came to town as an outsider, and now he's acting like our judge! We'll treat you far worse than those other men!" And they lunged toward Lot to break down the door.
The wicked people's first reaction is not to listen to Lot's good heart to protect the visitors. Why? What Lot told was not aligned with their evil hearts full of sinful thoughts. Letting a sinful thought in one's heart drives one's behavior. Unless getting rid of the sinful thought completely, soon the sinful thought shallows up the person's entirety.
Then all the men of Sodom, young and old, came from all over the city pushed Lot against Lot's house's gate. Regardless of the age, they behaved wickedly, and the Lot was also one of them per se. It is the power of the sinful nature residing in all humans' hearts, which is so strong that nobody can resist by one's strength alone. Thus, The Bible says that
Well then, should we conclude that we Jews are better than others? No, not at all, for we have already shown that all people, whether Jews or Gentiles, are under the power of sin. As the Scriptures say,
"No one is righteous—
not even one.
No one is truly wise;
no one is seeking God.
All have turned away;
all have become useless.
No one does good,
not a single one."
"Their talk is foul, like the stench from an open grave.
Their tongues are filled with lies."
"Snake venom drips from their lips."
"Their mouths are full of cursing and bitterness."
"They rush to commit murder.
Destruction and misery always follow them.
They don't know where to find peace."
"They have no fear of God at all." (Romans 3:9-18)
Lot was in great danger by the people of Sodom while trying to do good. He was doing right, but he was also doing wrong at the same time. We often do both right and wrong because we live in a world full of sin and wickedness. Of course, we don't say all in this world are sinful and wicked. However, if we are not fully in the Holy Spirit, we will naturally choose sin and wickedness. Why? They look so delicious to our earthly eyes. Let's remember why did Eve sin. Didn't the forbidden fruit look so delicious to her eyes?
But the two angels reached out, pulled Lot into the house, and bolted the door. Then they blinded all the men, young and old, who were at the door of the house, so they gave up trying to get inside. (Genesis 19:10-11)
Lot spoke out both wrong and right, but God saw through Lot's heart. God did not leave Lot alone who was about to be trampled by the people of Sodom. God's angels rescued Lot. God did not blame Lot either, who spoke like the people of Sodom without a full understanding of what he was proposing was equally evil.
This is the reason why we trust Him more and more daily and under all circumstances. Yes, we cannot be perfect, but God sees through our hearts. Although we meet danger because of our own sin, God stretches His mighty and loving hand and rescues us because we are His beloved children. Are there any parents who let their children alone in danger because their children did wrong without knowing and being swayed by the external influence? No. If so, how much more will Our Ever-Loving God embrace us with the infinitely bigger heart than those of any parents on earth ever lived?
Then the angels made all people of Sodom blind and protected Lot!
At dawn the next morning, the angels became insistent.
"Hurry," they said to Lot. "Take your wife and your two daughters who are here. Get out right now, or you will be swept away in the destruction of the city!" (Genesis 19:15b)
There was no other way except destroying the wicked city, Sodom. God gave an opportunity to the people of Sodom through Lot by sending His angels. However, they did not change their hearts, but they continued trying to do evil. They refused Lot's suggestion and kept doing whatever good to their eyes, which was wicked to God's eyes.
Lot quickly contacted her daughters' fiancés and told God's impending judgment on the wicked city of Sodom. However, the fiancés thought Lot was joking. It was the world in which Lot lived.
all the people did whatever seemed right in their own eyes. (Judges 21:25b)
As long as we live in this world, we are really vulnerable, and without knowing, we will soon be like Lot, who could not tell what was right and wrong. Then we do sin without knowing just like Lot.
What's the way not to be like Lot while living in this world? Fix our eyes on Jesus Christ, and run the race given to us by God. Be always kind and hospitable to others, especially to those who ask for our help and even to our enemies who harm us. After all, loving others is fulfilling one of the two greatest God's commandments: love God and love neighbors.
Love the Lord your God with all your heart and with all your soul and with all your mind and with all your strength.' The second is this: 'Love your neighbor as yourself.' There is no commandment greater than these." (Mark 12:30-31)
Also we should not forget the Day of the judgment, which will come suddenly like a thief and expose all hidden thoughts and motives before the judgment seat. Rather than confirming this world, we strive to fill our hearts with the Holy Spirit. Then when we see God face to face, God will be pleased with us, and God will provide the crown of life prepared for us. However, we should not forget the most important truth — we will receive the crown of life not because we are holy without sins, but because Jesus Christ forgave all our sins with the blood of Jesus Christ on the cross.
Nobody is perfect before God, but God will accept us as we are because we are His Children. God will welcome us as His beloved children in His Kingdom in Heaven forever. This is our hope and faith. Therefore, on earth, we should boldly walk with the Holy Spirit who resides in our heart, and we should not follow the world by copying what the sons of the world are practicing on earth.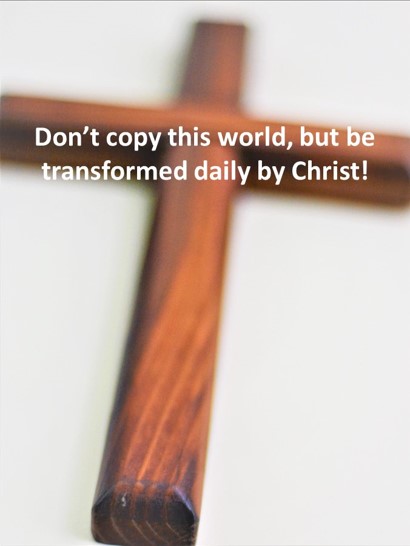 And now the prize awaits me—the crown of righteousness, which the Lord, the righteous Judge, will give me on the day of his return. And the prize is not just for me but for all who eagerly look forward to his appearing. (2 Timothy 4:8)