Good morning!
Greetings in the name of the Father, the Son, and the Holy Spirit.
The LORD of Heaven's Armies has sworn this oath:
"It will all happen as I have planned.
It will be as I have decided. (Isaiah 14:24)
Moses heard God's voice. When Moses was greatly in need, God came to Moses, whom God loved. Moses did not want to experience the same failure that he had forty years ago, but he did. His former failure stripped off his prince position in Egypt, the mightiest nation at that time, and made him a fugitive. He used to get great respect from the Egyptians as the number one prince among the princes, and the Israelites, the enslaved people for the Egyptians. He hid in the Midian wilderness and spent the next forty years in the wilderness as he fled.
However, using the forty years, God carved out a new person, Moses, who was of God, not of himself, who used to trust in his power, strength, knowledge, experience, rich, position, and fame. As Moses became truly humble, God lifted him with His merciful hand. God restored Moses as one who would do God's work by leading the Israelites out of Egypt. Moses attempted the same mission with his own power, but now God sent Moses to do the same mission he failed forty years ago.
God also prepared his brother, Aaron, and the elders of Israelites to welcome Moses returning to free the Israelites from slavery. Then Moses, Aaron, and the elders visited Pharaoh on the following day. Moses delivered God's message to Pharaoh, but it was not the message that God gave him. Moses did deliver God's message partially. He added his own human interpretation and wisdom to coax Pharaoh to make God's plan work — freeing his fellow Israelites.
Moses' sin was truly costly. Moses lost both Pharaoh and his people. Pharaoh, who was initially very receptive to Moses, suddenly became the most formidable enemy. Pharaoh expelled Moses from his palace and gave his fellow Israelites a treacherous and cruel order. His fellow Israelites gravely suffered, and they made a plea to Pharaoh. Pharaoh did not even budge at all. Then they came to Moses and cursed, "May the LORD judge and punish you for making us stink before Pharaoh and his officials. You have put a sword into their hands, an excuse to kill us!" It tells how harsher their lives became due to the new treacherous order of Pharaoh.
Moses thought about disappearing by running away from his people and God again as he did, but Moses did not this time. Moses clang to God with prayer. Moses then confronted his sins by confessing to God and asking for forgiveness. He also spread out all his concerns, problems, and future uncertainty. He asked for God's wisdom and guidance in dealing with all these challenges, including the bad behavior of his people and Pharaoh.
Then God told Moses,
"Now you will see what I will do to Pharaoh. When he feels the force of my strong hand, he will let the people go. In fact, he will force them to leave his land!" (Exodus 6:1b)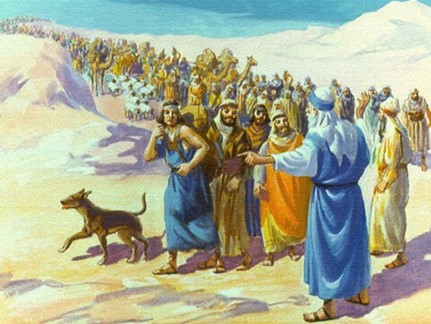 Moses heard God's voice, and he was greatly comforted. However, Moses was still hesitant to go again to Pharaoh. Going back to Pharaoh was still truly burdensome to Moses.
Moses failed to deliver God's message to Pharaoh before. Moses knew why at that time. He fixed his eyes on Pharaoh, not on God because he saw and smelled the power of Pharaoh, which overpowered Moses. Moses had experienced the irresistible power of the world that lured him to be on their side. However, he was not fully confident about winning over the world's power when he saw Pharaoh again. Moses could not fail for this time. Moses begged for God's help.
God lovingly answered Moses,
"Pay close attention to this. I will make you seem like God to Pharaoh, and your brother, Aaron, will be your prophet. Tell Aaron everything I command you, and Aaron must command Pharaoh to let the people of Israel leave his country." (Exodus 7:1b-2)
God promised Moses that God would make Moses like God to Pharaoh. Yes, a mere shepherd from the Midian wilderness would be God to the most powerful person in Egypt and the world at that time. Aaron would be Moses' prophet who would do everything God commanded Moses. Not Moses, Aaron would command Pharaoh to let His people go.
Who was the boss? Pharaoh or God? To Moses' eyes, during the first visit, Pharaoh seemed powerful enough to release his people from slavery. Moses worshipped Pharaoh in his heart, bowing down to Pharaoh's power, majesty, and splendor.
God knew Moses' painful past. God mended Moses' pain by pulling down Pharaoh as yet another mere person to whom God could do anything. On the other hand, God would make Moses like God to Pharaoh, an unknown shepherd who just came from the remote Midian wilderness, a nobody's desolate land.
Then God commanded Moses to confront Pharaoh again as God commanded. It was not a just suggestion or recommendation. Moses was supercharged and felt he could run to Pharaoh to do what God commanded.
However, God warned Moses by telling him what God was about to do:
"But I will make Pharaoh's heart stubborn." (Exodus 7:3a)
What God told Moses was not something that Moses expected to hear.
God would make Pharaoh's heart stubborn to refuse to listen to Moses. Does what God just said make sense to us? God promised God would make Moses like God to Pharaoh. However, at the same time, Pharaoh would make Pharaoh's heart stubborn. God seemed to be talking equivocal. What God promised to Moses and What God would do to Pharaoh were contradictory, weren't they? Yes, in our human wisdom, God was not logically consistent. He said one thing to Moses, but God would do something opposite to Pharaoh. Moses was confused.
Have you felt the same feeling that Moses had before? Yes, we believe you had.
We read Bible and are excited about His promise. And we pray to God and are filled with Holy Spirit. Then we go out and do God's work while expecting all good things promised in the Bible as we believed after our prayers. However, what had really happened? Had things happened as we expected?
We followed every step as God commanded in many cases, but the result was not what we believe God promised as if God were in the way. Indeed, God actually did too. Why then does God do such contradictory things to us?
We can find the answer from what God said to Moses.
"so I can multiply my miraculous signs and wonders in the land of Egypt." (Exodus 7:3b)
The answer is to multiply God's miraculous signs and wonders in the land of Egypt.
God created all things, and God oversees everything he has made. God governs all creations with wonders and miracles, but we don't feel God's wonders and miracles daily. Why? Because God's wonders and miracles are everywhere and always in our lives.
We, human beings, have made amazing progress in scientific and medical knowledge and technologies. We can now do things impossible, even a few years ago. As a matter of fact, you are reading this devotion due to the technology marble of the Internet and computer technologies that we created in recent years.
Even so, we still don't know many things as simple as the mechanism and process in our bodies, such as how we get up in the morning after going to bed at night. It is still a mystery. Our consciousness is another mystery. Although we all are conscious, scientists cannot explain how our consciousness works in us. Every morning, we wake up miraculously and return to consciousness of our wonder, but we don't appreciate all these miraculous, wonderous things. Instead, we take all such marvelous things in our lives for granted without truly giving a deep thought to the miraculous things that God does every morning by waking us up and giving us the consciousness that God pours into us for the new day,
We owe to God, who has given us another new day and filled us with His spirit, to be a living being who is conscious and can talk, see, and think, which is God's wonder. Then what's the purpose of the miracles and wonders in our lives on earth?
I have made Israel for myself, and they will someday honor me before the whole world. (Isaiah 43:21)
The answer is to praise God and proclaim His glory to the world, which is why God has created us.
How about us? Do we praise God every day? Are we every moment as we realize our consciousness giving thanks to God? More likely, our answer is no.
However, God is patient with us, and He does not stop giving his wonders and miracles in our lives. Indeed, we still cannot recreate our lives with any technologies so far ever invented. Each time our heart pumps, we should feel His wonder and praise Him. Every breath is a miracle to return glory to God. Our life itself is a wonder and also a miracle provided by God to each of us with His love.
Let's go back to why God would harden Pharaoh's heart. As we talked about before, it seems contradictory, but God explained why, "so I can multiply my miraculous signs and wonders in the land of Egypt." In other words, the Pharaoh's hardened heart would lead to God's miraculous signs and wonders that everyone in Egypt would see.
Every evening, we lit street lights for safety for people as the sun sets, but when the sun rises in the morning, the bright street lights at night become dim and soon no longer visible. We cannot even tell they are on or off while the sun is up.
God's glory is like the midday sun, which drafts every street light giving bright light to the night streets. Like the midday sun, His glory and mercy of forgiving all our sins dwarf all things in our lives, and we soon forget what God had done for us – His miracle of forgiving our sins and His wonder of making us His eternal children. As a result, although God created us to praise Him, we forget how great He is, and we also lose our praise God from our lips. Instead, our mouths pour our complaints and our hearts dissatisfaction to God.
Indeed, the sole purpose on earth is to praise God as long as we breathe the air and are conscious to see and enjoy God's creation.
It is an unfortunate reality that comes from our nature to see the miracles and wonders of God in our lives. We need darkness. It is the paradoxical truth — why things often do not go as expected, although we do everything for God while believing God and His promise.
"A hero needs the most vicious villain." All great hero movies introduce the most hideously vicious villain to make our hero shine like the noonday sun in the film. Why not God use this in our lives for us?
Even then Pharaoh will refuse to listen to you. So I will bring down my fist on Egypt. Then I will rescue my forces—my people, the Israelites—from the land of Egypt with great acts of judgment. (Exodus 7:4)
It is also true that a good movie does not end with a single victorious scene in that our hero defeats the villain with one punch at the end. Instead, the vicious villain gets worse and worse by being more powerful, returning again and again to the silver screen, which really puts us in suspension. Every time, our hero struggles because the villain gets more powerful as the villain returns. Our hero often gets hurt and suffers while defending a good cause. Still, our hero manages to defeat the villain, and the villain temporarily flees while searching for the next opportunity.
God told Moses that God would multiply His miraculous signs and wonders. But the villain Pharaoh would not budge, although the villain would also suffer from God's miracles and wonders performed by Moses. However, soon after being recovered from God's hand, Pharaoh would again harden his heart, refusing to listen to Moses. Like a good movie, the villain Pharaoh would keep escalating the situation between him and Moses to the climactic conclusion that God planned – freeing the Israelites.
Like a good movie, the battle between our hero Moses and the notorious villain Pharaoh kept going. Yes, God would bring down God's fist on Egypt again and again, and Pharaoh would again and again promise to release the Israelites, but Pharaoh repetitively would harden his heart. God then would escalate the situation as God would harden Pharaoh's heart. When reaching the climax, God would judge the entire nation. Then Pharaoh would completely surrender to God after tasting the final defeat, about which we will talk in detail later.
In Egypt, in the main stage, as the stubbornness in Pharaoh's heart grew, the darkness thickened. On the other hand, God's glory got brighter as Pharaoh's heart became darker. At the climactic moment, the darkest moment would hit the entire nation of Egypt, but the people of Israelites in the land of Egypt would be protected by God's hand. Then they would be released from slavery. Pharaoh and the Egyptians would ask the entire Israelites to leave the land of Egypt as they were moaning from their agony after falling deep into the darkness. The Israelites, God's people, would start leaving the land of Egypt in daylight brightness by holding God's hand. It would be the climax of the movie as God would direct. Thus, what God said to Moses is not contradictory, but both would work together to magnify God and His glory. Moses and his fellow Israelites would surely witness God's hand in awe and reverence.
When I raise my powerful hand and bring out the Israelites, the Egyptians will know that I am the LORD." (Exodus 7:5)
The final scene would be the Israelite exiting Egypt, and the Egyptians would fear God and His people, the Israelites, who were their slaves yesterday, but as the new day dawned, the Israelites would become their fear. The Egyptians would give out all good things to the Israelites as leaving Egypt.
Moses and Aaron heard the end of God's plan, although they could not see what God would do exactly. Then they bowed down to God with thanksgiving because God was faithful to the covenant made with the ancestors, Abraham, Isaac, and Jacob.
The first failure did not deter Moses anymore because Moses learned the end of all things that God would do for him and the Israelites. So Moses and Aaron did just as the LORD had commanded them. They went back to the palace where the fearful Pharaoh lived.
Moses was eighty years old, and Aaron was eighty-three, but their hearts were like that of young men in their twenties. As they walked to the palace, God said to Moses and Aaron, adding another detail about what Moses would do. Like parents who are about to send their children to a baseball game, God gave all details of what would happen. God is such a loving and caring Father!
"Pharaoh will demand, 'Show me a miracle.' When he does this, say to Aaron, 'Take your staff and throw it down in front of Pharaoh, and it will become a serpent.'"
So Moses and Aaron went to Pharaoh and did what God had commanded them. Aaron threw down his staff before Pharaoh and his officials, and it became a serpent! Then Pharaoh called in his own wise men and sorcerers, and these Egyptian magicians did the same thing with their magic. They threw down their staffs, which also became serpents! But then Aaron's staff swallowed up their staffs. Pharaoh's heart, however, remained hard. He still refused to listen, just as the LORD had predicted.
Moses and Aaron were not disappointed because it was just the first encounter between Moses and Pharaoh in God's holy plan. They heard the end – what would happen, but they did not know what would happen exactly. It is what God does for all His children. God does not tell exactly what will happen, but we know in faith what God would do for us, His children. We also have already heard the end of the story of God unfolding for us.
Thus, we can be confident under all circumstances in God, although we might see the situation getting darker. Then we must praise God because we will surely see His glory like a bright start again in this darkening world. Again, we all know and are sure about the ending, our victory in Him. And using the victory, we will glorify God, our ever-loving Father to please Him.
"My thoughts are nothing like your thoughts," says the LORD.
"And my ways are far beyond anything you could imagine.
For just as the heavens are higher than the earth,
so my ways are higher than your ways
and my thoughts higher than your thoughts. (Isaiah 55:8-9)